Seating plan and infos for the Stadio Ferraris, Marassi, in Genova.
Commonly called "Marassi", by virtue of the regulations of the Genova district in which it's located, the Stadio Ferraris has a capacity of just over 33k seats. It is located just northeast of the historic center of Genua, in Via Giovanni de Prà 1, overlooking Piazzale Atleti Azzurri d'Italia (here, on Google Maps).
Opened on 22 January 1911, the Ferraris is today the oldest stadium in Italy still in use, very much beloved and known for its iconic shape and colours thanks to the transformation project outlined by architect Vittorio Gregotti before the Italia 1990 World Cup.
Below you'll find a stadium map and some useful directions to help you reach the stadium and understand its stands, sections and tier structure.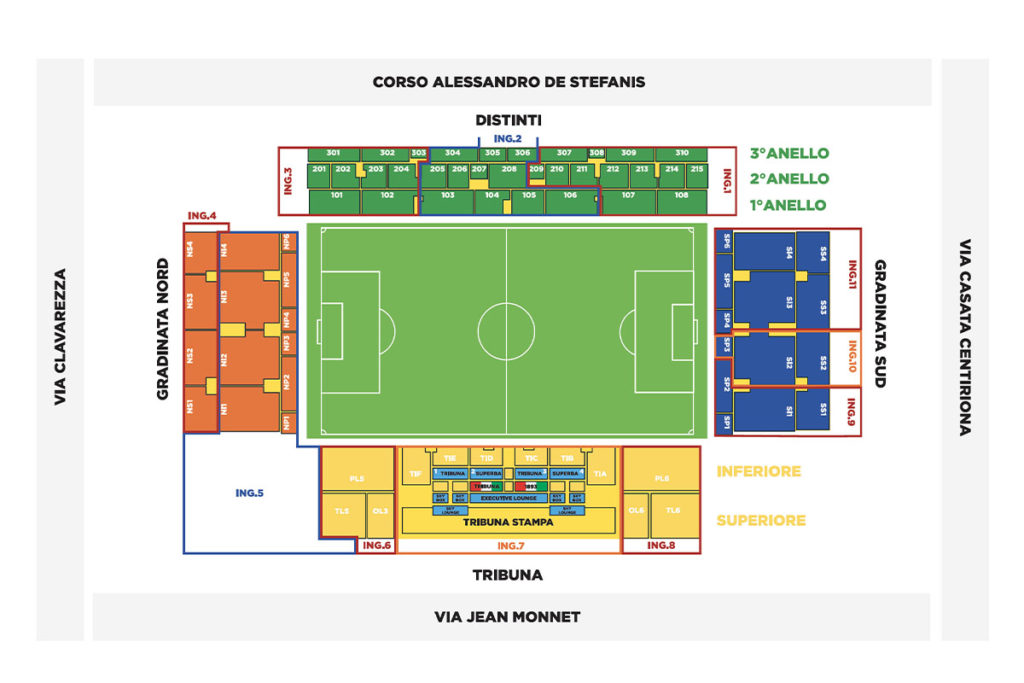 Disabled fans can find dedicated areas in section 101 (entrance 3, North-East) and section 108 (entrance 1, South-East), in Distinti stand.
The home end of CFC Genoa fans is the North Stand, while Sampdoria fans stand in the South end. The away section is found in the opposite stand of the home team, depending on which club is playing home (upper section, near the Main Stand).
How to get to the Stadio Ferraris in Genoa?
the stadium is here, on Google Maps
By bus : bus number 12; 13; 14; 37; 47; 48; 480 and 482 (useful infos can be found online via the Moovitapp app, here)
(shuttle bused on matchdays) : BM with runs from station "Molassana"; CM with runs from station "Caricamento"; KM with runs from "Piazzale Kennedy"; SM from "Principe railway station"; number 47/ from piazzale Kennedy.
By car : Genova Est motorway exit: head towards the city center following directions for the stadium (a dedicated parking area for matchdays is located in Via Canevari 164, more info here)
By train: a 10-min walk from Genova-Brignole railway station.